This is a new section added to give you a seasonal idea of what's happening at Fishhawk Lake Reserve and Community regarding real estate market trends that I am seeing in relationship to the time of year and also changes I've seen in the 13+ years of having Fishhawk Lake as my niche market.
My listing website (click on the above link)
                                                                My Newest Listing!
This summer season has been replete with sales of all types of properties! Off the lake, on the lake…some properties only on the market a few hours that went sale pending with my buyers, others that have languished are now in Sale Pending OR SOLD because it's what my buyers were seeking.
Being the local expert, I can share all kinds of history of these homes and the area. Many buyers ask the same questions over and over again so I compiled a good sized post to give you those answers.
Some buyers are thinking of building as an option. Here is an article I wrote for my ActiveRain real estate blog.
Excitement about buying a vacant lot at a reasonable price at or on Fishhawk Lake with the potential to build has become more popular this season! More and more are looking towards the future…camp now, build later, or get that lot that boundaries Boxler Creek for only $20,000 MLS# 18211848 and break ground right away! (As seen in the photo above and below!) 
There are some questions that come up over and over again with my buyers about our Homeowner's Association CC&RS (Covenants, Conditions & Restrictions) when it comes to such things as parking your RV, or putting an outbuilding on the property, cutting down trees or fencing, just to cover a few. 
I decided to talk with one of the Architectural Committee people to get some clear (or not-so-clear) answers for my clients and for other REALTOR®s who want to show my listings.
So, here goes:
Some important points about building
At Fishhawk Lake Reserve and Community
(Vacant lakefront lot listed and sold by Gayle Rich-Boxman 2018)
CC&Rs 5.6 (See below)Once you are actively breaking ground to build, you may have a temporary residence, i.e., RV, motor home, etc. to stay in for up to 10 months with approval from the architectural committee.
5.6 No shed, tent, canopy, garage, mobile home, manufactured home, recreational vehicle or Outbuilding may be used as a permanent residence. Any of the foregoing may be used as a temporary residence during construction of a permanent residence with approval of the Architectural Committee but not to exceed ten months. Tents, canopies, and recreational vehicles may be used on Lots for weekend and vacation occupancy up to a maximum of 60 days per year, subject to such Rules and Regulations as may be adopted from time to time by the Board of Trustees of the Association. Tents, canopies, and recreational vehicles are subject to the same setback requirements from the Lake as buildings. Tents, canopies, and recreational vehicles may not be stored outside on Lots and must be removed when they are unoccupied. Tents and canopies are not to be used as storage facilities. Mobile homes, recreational vehicles or outbuildings needed by the Association for temporary employees or contractors approved by the Board of Trustees are exempt from this Restriction.
2.Please have two sets of plans so as to leave one with the committee because they may need to walk the property during various phases of building and you may not be able to be there at the same time.
3. Plans do need to be to scale UNLESS you are building a shed or an outbuilding.

  You can ask for your plans back once your home is built, otherwise the management office keeps your copy in your file.
4.  As to who patrols your RV being on site for more than 60 days unattended, there is no certain governing body that patrols that. It may just be your neighbor or someone who drives by your property consistently! Nothing says that you can't go to the board and explain your situation and ask for an exception. There is a Fishhawk Lake Watch, volunteers who drive the area on a scheduled basis, who may also take note of something being left longer than usual.
5. CC&Rs 4.1.4 (See below) All alders can be cut down without permission from the architectural committee. As to evergreens, 8" in diameter or above and 4' tall above ground can only be cut down for the footprint of the property UNLESS you have an arborist who can write something to show the committee that it is a safety issue, dangerous to other trees, or dying or leaning towards powerlines, for example.
  4.1.4 Plans will include identification of any evergreen trees 8 inches or greater in diameter four feet above ground level which are subject to removal. Removal is subject to approval by the Committee, but is justified for trees which are in the footprint of a Building or driveway, are dangerous, are dying, are endangering the health of surrounding trees, or interfere with power lines. Limbing of trees for view, sunlight or landscaping does not require approval. Topping of evergreen trees does require approval of the Architectural Committee.
   6.Fencing for a dog run is allowable with some restrictions. Natural fencing, like arborvitae is allowable. Here are some restrictions:
5.9 No fence, wall or hedge shall be planted, erected, located or maintained upon any of said Lots in such location or at such height as to unreasonably obstruct the view of the Lake from any other Lot or Lots in said Property. Fences shall not be erected, located or maintained on any Lot nearer than 15 feet to any street Lot line, and, on the Lake front Lots and Fishhawk and Boxler Creeks front Lots, no nearer than 50 feet from the water's edge.
"It's a hit-and-miss with fencing," one of the committee members has said, and continues to say, "Most of us like the wooden fences to blend now, but it depends on where and why you want said fencing".
 7.If building takes longer here is what you should be aware of:
5.12 The work of construction on Buildings and Structures shall be prosecuted diligently and continuously from commencement of construction until the outside of the Buildings or Structures are fully completed and painted. All Buildings and Structures shall be complete as to external appearance, including finished painting within 10 months from date of commencement of construction, unless prevented by causes beyond the Owner's control. Any extensions to the 10-month construction period must be approved by the Architectural Committee
If you want to camp forever and NOT build, you can certainly do that at Fishhawk Lake as well!
Here is a link to the full set of CC&RS 17 pages worth for your reading pleasure. 
Fishhawk Lake Homeowners Association CC&RS
If this piques your interest to know more about Fishhawk Lake properties, give your local expert a call!
Gayle Rich-Boxman
REALTOR® John L Scott Mkt Ctr Direct: (503)755-2905
Birkenfeld OR 97016
REAL ESTATE ACTIVITY FROM LATE 2018
After owning property here as both part time and then a full time resident since 2003, there are barometers that I can see from living in this rural community for so long that other realtors don't have intimate knowledge of.  Being the local expert for a very long time, and through all kinds of ups and downs since 2006 when I started in real estate gives my buyers and sellers the opportunity to deeply understand what Fishhawk Lake has to offer them for both purchasing property or listing it with me.
Fall Trends 2018
The buying and selling of properties at Fishhawk Lake was moving along quite steadily throughout the spring and summer and much of our delightfully sunny October. The "off" button just got switched on only within the last week or so. 
Some homes sold in a New York minute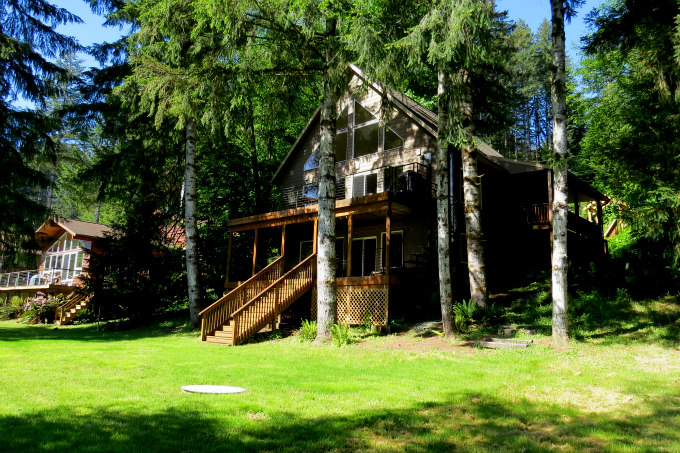 while others have steadily languished for yet another season, come-and-gone. 
There are still some real beauties that are move-in ready for sale. 
9838 Beach Drive Birkenfeld OR Now listed at $283,000
There has been a plethora of interest in vacant lots! Buyers with cash wanting a piece of the Fishhawk Lake pie but not ready to commit to a higher priced home that might involve a loan, or that they simply want to camp and think about building later. I'm seeing this much more frequently this year than in years past.
(Lakefront lot pictured below listed and sold by me for future building after new owners retire).
Lakefront lots are becoming scarce and buyers still covet the idea of being on the water, but either the price isn't attractive or it's not the side of the lake that they prefer. I have a sale pending for a waterfront lot that is a beauty, flat and buildable and on the canal, with the privacy that the buyers were looking for, after a failed attempt to buy some land being sold privately (without a seller's agent). Otherwise, most vacant lots are off-the-lake, either along a creek or one of the roads that are part of the community. 
More inquiries are being made about upcoming retirement and/or full time living while possibly working remotely part time. Those who are willing to make a bit of a longer commute are finding that the pricing at Fishhawk Lake, along with county taxes is MUCH more amenable than both found in the Portland and surrounding urban areas. 
There are currently 14 homes for sale ranging in price from $174,000 to $499,900. Nine vacant lots are for sale ranging from $7,500 to $40,000 all of which are non-lakefront, with only one being waterfront, located on beautiful Boxler Creek, where the salmon spawn yearly and has a view of Fishhawk Lake. 
MLS#18211848
           71874 Northshore Drive Birkenfeld $20,000 listed by Gayle Rich-Boxman 
Only two properties are in sale pending: one lakefront A-frame, listed at $299,000 and a canal front lot that I have in sale pending (representing the buyers), listed at $59,900. 
People are still contacting me about Fishhawk Lake, (the latest, today; a woman from Los Angeles area), what it has to offer, how many are vacationers vs full time and questions that are very similar to everyone else's. Here is a link to those often-asked top ten questions that each buyer seems to want to address:
Ten Questions Buyers Ask (About Fishhawk Lake)
90 minutes from Portland to Paradise! 
If this piques your interest to know more about Fishhawk Lake properties, give your local expert a call!
Gayle Rich-Boxman
REALTOR® John L Scott Mkt Ctr Direct: (503)755-2905
Birkenfeld OR 97016
Original content from ActiveRain blog by Gayle Rich-Boxman 11.14.18